By Morgan Doll, Zenobia Goodman, Maggie Manson, and Mary Trimble
September 3rd, 2020
This summer, the TRIP team has been working as hard as ever in a remote work environment! While we miss the GRI porch, we are happy to be staying safe from afar and grateful for zoom meetings that have kept us in touch. Our biggest news is that we said goodbye to Project Managers Emily and Eric, and welcomed our amazing new PM's: Irene and Alex. Emily will be moving on to pursue her Ph.D. at Cornell University and Eric will be working on his Ph.D. in Political Science at the University of North Carolina-Chapel Hill. Alex and Irene will be joining us from the University of California, San Diego where Irene completed her Masters of International Affairs, and Alex finished her Masters of Public Policy. We are so excited to welcome them to the team! 
Summer during the time of Coronavirus
Working at TRIP this summer certainly looked very different than a typical summer, but despite physical distance, TRIP was as socially connected and productive as ever! With RA Zenobia revamping our social media presence, and RA Maggie managing our blog, TRIP's online presence was very prevalent. Over the course of three months, RAs worked on and published eight blog posts that covered pressing topics such as global perspectives on racism, academic views on the COVID-19 pandemic, and the effect of the pandemic on protest movements. RAs were able to stay connected digitally through weekly Zoom Meetings with our PM's and often with our Primary Investigators where we brainstormed questions for our upcoming Think Tank survey, discussed social media and blog post ideas, and talked about life in the middle of a pandemic. Telework may have presented its own challenges, but as seen in the projects below, TRIP was able to adjust to a new work environment and thrive! 
For TRIP staying connected has always been an important part of our work. This became even more important during the COVID-19 pandemic. We realized that in order to stay connected with the W&M community and people around the world, revamping our social media strategy was imperative. This summer we began using our platform to promote Bridging the Theory-Practice Divide in International Relations. This gave our research assistants a chance to interact with our Twitter followers! We also created an Instagram for TRIP (@trip_wm). We used our Instagram to introduce our RAs and interact with TRIP Alumni and researchers in a more casual way. This began with the introduction of "Why TRIP Wednesday" where our RAs introduced themselves and gave insight on why TRIP was the place for them and has evolved into a platform where we simply keep others informed on upcoming TRIP activities. Revamping our social media was a great way to stay connected during the COVID-19 pandemic and we can't wait to see where our social media journey takes us! 
TRIP has a new book!
This spring, we released the long-awaited TRIP Book: Bridging the Theory-Practice Divide in International Relations. This book uses TRIP data gathered over a fifteen-year period to analyze the structural divide in the academy's ability to influence policy. Each chapter discusses a different issue including human rights, the environment, trade, and nuclear strategy from the viewpoint of scholars, and is followed by a response from policymakers. This conversation is both important and unique, and we are excited to bring the questions we ask every day at TRIP into the world by means of this book.
To help promote the book and meaningfully engage with its content as RAs who have been a part of compiling this data, we each read and reviewed a different chapter. Maggie focused on the nuclear strategy  chapters, Mary tackled the chapters addressing human rights and interstate conflict, Morgan looked at trade and the environment , and Zenobia worked on foreign aid. Maggie was even able to ask questions to the authors of one of these chapters, Michael Desch and Paul Avey, who described their process of working with TRIP data as follows: "We have been fortunate to have worked with TRIP on multiple projects. TRIP data is an invaluable tool for understanding broad trends in the discipline and the nature of the academic-policy gap. There is still a lot to be learned from what they have collected."
Check out our tweets at @TRIP_survey!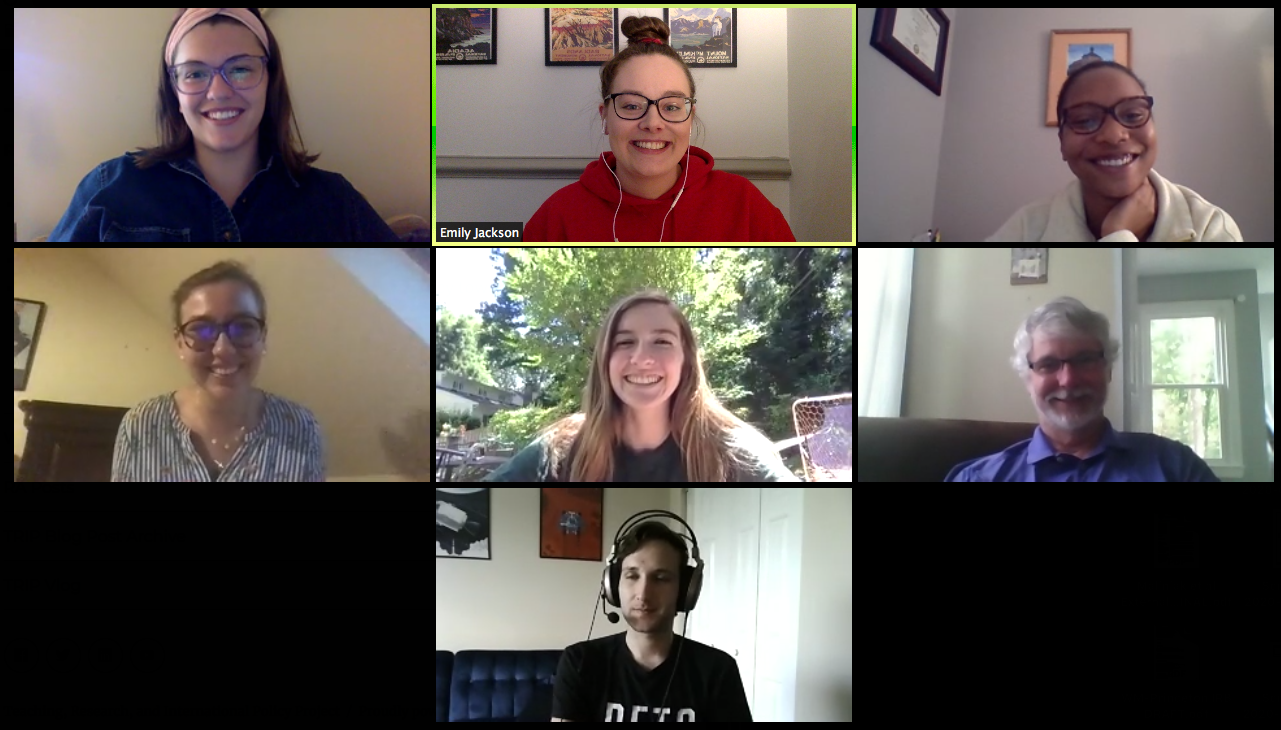 How Think Tanks are influencing IR research 
After completing the journalist survey in the fall, we began compiling a list of Think Tanks to survey next. Our sample consists of the 76 most influential International Relations Think Tanks based in the U.S. including Brookings Institution, Center for Strategic and International Studies, Heritage Foundation, Council on Foreign Relations, Cato Institute, and Human Rights Watch. We chose to undertake this project because think tanks often serve as the middle ground between academics and the public. The people who conduct research at think tanks are not necessarily academics, even though some might be, and they are not journalists either. Rather than reading a lengthy article from an academic journal, the average person might be more likely to read a piece on a specific issue published by a think tank as it is more easily accessible and understandable. Thus, think tanks serve an important role in synthesizing academic knowledge and shaping the conversation on International Relations and current events. Our job as RAs was to gather contact information of the employees at these think tanks and decide whether or not to include them in our survey sample.
What's Next?
Fall 2020 will certainly be a semester unlike any other. We are sad that we won't be able to plant ourselves in our old corners of the Scotland Street houses, attend GRI events, or chat with our co-workers in the kitchen as we make our fourth cup of coffee of the day. Yet, this summer showed us that at GRI and at TRIP, the show can and must go on. This fall, we will work remotely to continue to build a sample for our newest survey, this time of staff at US-based NGOs and advocacy groups. Hopefully, that work will be done by the end of the semester so the PMs and PIs can begin drafting the questions for this survey. Like always, TRIP is interested in how these groups engage with academic knowledge in international relations, how they think about their own research, and what they consider to be "academic." 
While this summer may not have looked exactly like we had imagined it would, we are so thankful for the opportunities and experiences TRIP and the Global Research Institute have provided us with and we can't wait to see what is to come this fall!
Morgan Doll is a junior at the College of William and Mary majoring in Philosophy, Politics, and Economics. She started working as a Research Assistant for TRIP in September 2019. On campus, Morgan is a member of Camp Kesem William & Mary and Kappa Alpha Theta Women's Fraternity. Her interests include human and civil rights, law, and decision making.
Zenobia Goodman is a junior at the college, majoring in International Relations with a concentration in Global Education. She has worked at TRIP since the Spring semester of 2019. On campus, Zenobia is a member of the International Relations Club, a classroom assistant for a group of kindergartners, and a member of a social sorority. She is interested in human rights violations and global development issues.
Maggie Manson is a junior at William & Mary, majoring in International Relations and Middle Eastern Studies.  She began working at TRIP in September 2019. Her research interests include Border Disputes, Colonialism, Global Development, International Security, Middle Eastern Politics, Nuclear Politics, and Political Islam. On campus Maggie is Assistant Chair of Administration for the Undergraduate Honor Council, a research assistant for Professor Grewal's Armed Responses to Mobilization Or Revolution (ARMOR) project, and Political Correspondent for the Flat Hat student newspaper.
Mary Trimble is a sophomore at the College hoping to double major in European Studies and French and Francophone Studies. Mary began work at TRIP in February 2020. She is also an associate news editor for The Flat Hat student newspaper and a Tribe Ambassador with the Office of Undergraduate Admissions. Her interests include US-EU relations, national identity, and the rise of populism and far-right nationalism in the US and abroad.